Please note: It is required to perform the following adjustment as user with administrator role in your hintcatcher system.
With custom fields, you can request additional information from the whistleblower during case submission and thus further adapt the reporting office of your hintcatcher system to your needs.
Custom fields can be defined as mandatory or optional fields and you can configure them yourself in the system. Custom field configuration changes will be applied to future submitted cases.
Please note: Some functionality / settings may only be available in some hintcatcher plans.
Creating a new custom field
In case management, switch to the Settings page
In the "Settings of your reporting office" section, select the sub-item Manage custom fields for your report form:
Click the Add new custom field button to create a new custom field
Select the required field type to create the new field
After the field is created, it will appear in the custom fields list. Now click the button with the pencil icon to edit the settings of the field
In the dialog that now opens, you can configure the various settings of the field

Field Name: This specifies the field's name that will be displayed throughout the hintcatcher user interface
Required field: Specify whether this field must be filled out when submitting a case or whether it can be filled out optionally
More field-specific settings
Field name translations: Here you can specify translations for the field name. If a translation is configured for the field name in the respective language, the translation is displayed in the reporting office instead of the Field Name. Otherwise the Field Name is displayed.

Save the field configuration by clicking the Save and Close button
Save the entire configuration of all custom fields by clicking the Save and Close button
The configured custom fields are now displayed in the reporting form of your reporting office.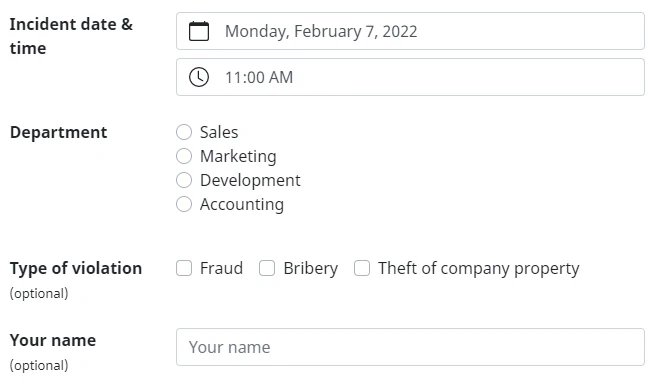 Field values filled in by whistleblowers are displayed in case management in the history of the detailed view of the respective case in the initial message of the whistleblower.
Editing an existing custom field
In case management, switch to the Settings page
In the "Settings of your reporting office" section, select the sub-item Manage custom fields for your report form:
In the custom fields list, click the pencil icon button to edit the field's settings
In the dialog that now opens, you can adjust the settings of the field
Save the field configuration by clicking the Save and Close button
Save the entire configuration of all custom fields by clicking the Save and Close button
Deleting a custom field
In case management, switch to the Settings page
In the "Settings of your reporting office" section, select the sub-item Manage custom fields for your report form:
In the custom fields list, click the trash can icon button to delete the custom field
Save the entire configuration of all custom fields by clicking the Save and Close button