Hints/cases that have been closed or rejected will be automatically and permanently deleted from your hintcatcher system according to your configured retention policy. Basic information on deleted cases remains in the deletion log and is clearly displayed there in tabular form.
Retention Policy settings
Please note: It is required to perform the following adjustment as user with administrator role in your hintcatcher system.
In the retention policy settings, you can specify after what time (in months) closed and rejected cases are automatically deleted from your hintcatcher system to comply with data protection regulations. By default, this setting is configured to 6 months, so closed or rejected cases are automatically deleted 6 months after rejection or closure.
Please note that changes to this setting will only affect future rejected or closed cases.
Configuring the Retention Policy
In case management, switch to the "Settings" page

Scroll down to Retention Policy settings

Click the Change button

The retention policy settings dialog opens

Choose the duration in months after which closed or rejected cases should be automatically deleted. Note that this change will only apply to future cases.
Click Save and Close to save the retention policy
The deletion log is now updated and will be applied to future completed and rejected cases.
The Deletion Log
Please note: The administrator role is required to use this functionality.
The deletion log lists basic information about all cases/hints that were automatically deleted from the system based on the retention policy.
Access to the Deletion Log
In case management, switch to the "Settings" page

Scroll down to "Case Deletion Log"

Click View Deletion Log to open the deletion log
The Deletion Log in detail
The following information is displayed for each deleted case:
Case ID
Type
Reported on
Rejected on
Receipt confirmed on
Final response provided on
Incident date & time
Deletion date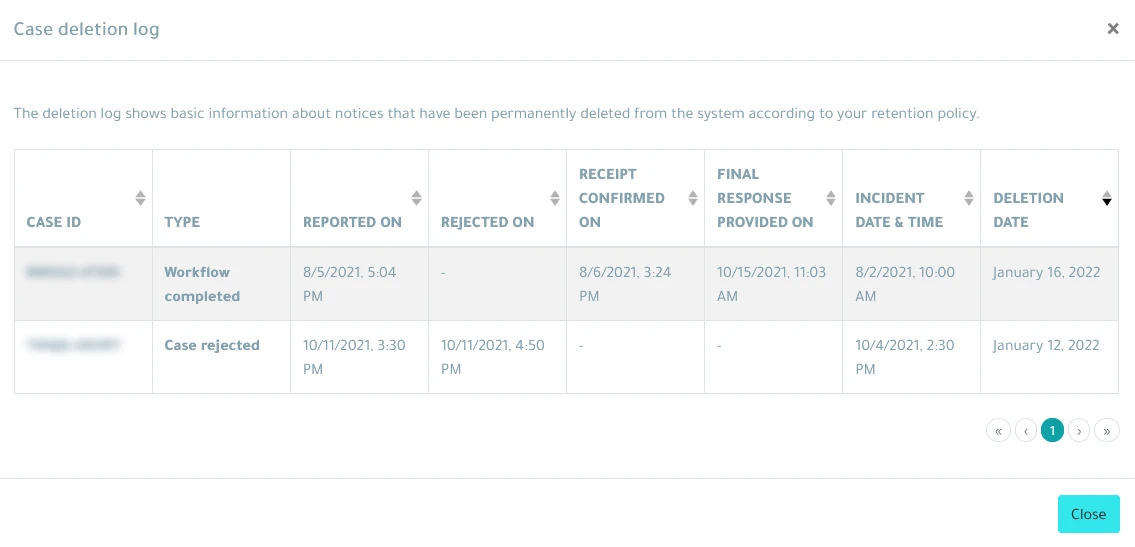 Available information is displayed according to the type.
If there are many cases in your deletion log, you can use the arrow keys at the bottom right of the dialog to navigate through the pages.