By default, hintcatcher allows whistleblowers to submit anonymous hint reports. Depending on your requirements, the reporting office can also be configured in such a way that the name and other information of the whistleblower are optionally or mandatory requested.
In the digital whistleblower system hintcatcher, this can easily be configured using the function custom fields.
Request the name of the whistleblower in the hint reporting form
The hintcatcher whistleblower system can be adapted to your company and your requirements via the convenient configuration interface by yourself. Custom fields allow you to add additional fields to your reporting form to request further information.
In order to query the name of the whistleblower in the hint reporting form, a free text field with the designation "Your name" can simply be added to the report form. Via the settings of the field it can be configured whether this field can be filled out optionally (and thus enables anonymous as well as named reports), or whether this field must be filled out as a mandatory field for the report (and therefore only enables named reports).
With additional user-defined fields, additional information such as contact data or the affected department can be queried from the whistleblower, which is then displayed accordingly in the report form: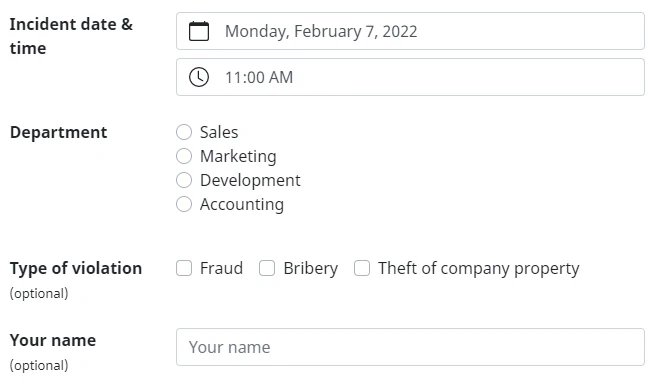 Click here for more information on setting up custom fields for the hintcatcher reporting office.
Summary
With the hintcatcher whistleblower system, further information from whistleblowers can be easily queried via user-defined fields and thus an optional or mandatory reporting option by name can be implemented.
The configuration can be adjusted by yourself at any time if required.
Note: Despite careful research, this is not legal advice, information is partly based on draft legislation. Subject to change without notice.