In the further development of hintcatcher, the wishes and requirements of our customers and interested parties are continuously incorporated. Therefore, we are pleased to present a frequently requested feature for further adjustment of the hintcatcher reporting office: Custom fields for the reporting form
Custom fields allow an extension of the existing hintcatcher reporting form, which by default already asks for the basic information of a hint, to request additional information.
As a further supplement to the existing options for adapting the registration office to your corporate identity and configuring the available languages ​​of your registration office, this feature allows an even more specific adaptation of the reporting office to your specific needs.
Custom fields in detail
Organizations with more specific requirements can add custom fields to the reporting form of their hintcatcher system and request additional information from whistleblowers when reporting. For example, the affected company site or department can be queried by the whistleblower via a user-defined field.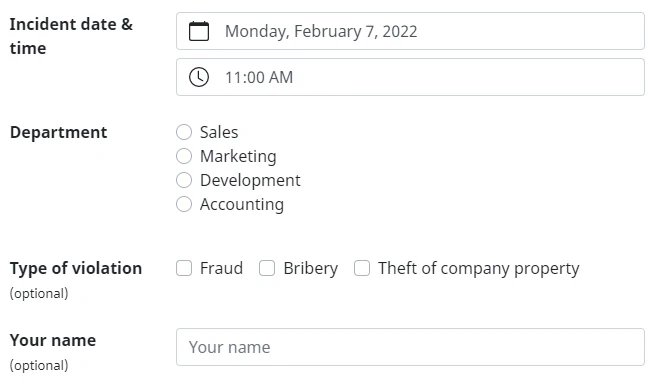 Custom fields can be configured in different ways and thus offer you flexible options for extending your own reporting office or further adapting it to the needs of your organization:
Different field types are available to query additional information via
a free text field
a selection or
a multiple choice
from whistleblowers.
In addition, each field can be configured whether it should be queried as a mandatory field or an optional field. Mandatory fields must be filled out by the whistleblower when reporting whereas optional fields allow additional information to be submitted, but do not necessarily have to be filled out.
Configure custom fields for your own hintcatcher reporting office - this is how it works
Like other configurations of the hintcatcher system, adding custom fields to your own hintcatcher reporting office is easy and can be done by yourself. After signing into the hintcatcher case management, users with Administrator role can easily configure and add new custom fields in Settings. A hintcatcher plan that contains the Custom Fields functionality is required to use this function.
In the hintcatcher knowledgebase we provide a step-by-step guide to configuring custom fields for your reporting office that guides you through the configuration.
Summary
With custom fields, you can extend the reporting form of your hintcatcher reporting office flexibly and thus adapt your reporting office even better to your needs.
Note: Despite careful research, this is not legal advice, information is partly based on draft legislation. Subject to change without notice.